Meet Our Team: Celebrating Customer Service Week 2019

My father taught me two things at a very early age: never be rude to someone who is preparing your food and always be courteous to anyone working in customer service. My dad managed teams in various service industries all his life – from fast food, to convention centre kitchens, to hotels. He truly made me understand the respect that anyone in a customer-facing role deserves and the daily challenges they deal with. He even gave me some tips after I got my first customer service role as a McDonald's cashier when I was 16.
Those lessons are equally as important now in my adulthood. I am grateful to work at in partnership with the Sharpsmart team where customer service and support for our customer service teammates is so important. October 7th marks the beginning of Customer Service Week 2019. This is an international awareness week that we are eager to celebrate across our business. In my partnering with Sharpsmart, I've had the pleasure of working with our administrators and support teams across the UK. This blog is to praise them, their efforts, and provide a small insight into how amazing they all are – while having some fun! A few of Sharpsmart's Administrators and Customer Care Advocates across the nation took time out of their busy days to answer a few questions. Read their professional, thoughtful, and funny responses below to quickly see why we appreciate them so.
Nominate a Sharpsmart Employee
Sharpsmart is known for our clinically-engineered reusable sharps containers – that also happen to be tamperproof. This means sometimes people lose things in our containers, and to their surprise, cannot get in the container to retrieve the item. This feature is to promote safe medical waste disposal, but often surprises customers at how secure our containers are.
What is the most odd or common thing, that isn't clinical waste, that you've found in one of our containers?
"Well, we did have one of our S32 reusable sharps containers come back to the depot with a pillow stuffed through the tray of the container."
– Sarah Blakey, Spennymoor UK
What type of customer really makes your day, makes you smile?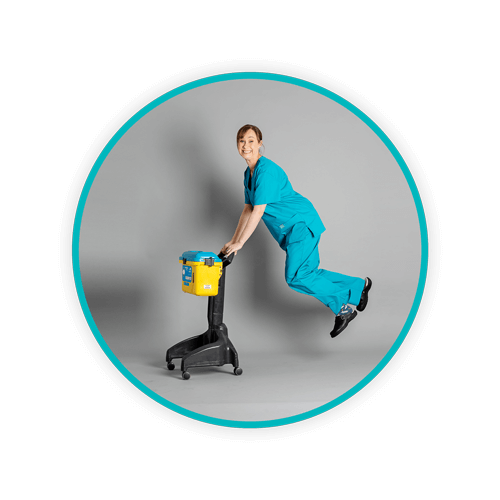 – Anthony Banks, Spennymoor UK
"Customers who are patient and understanding even when there's an issue and are also able to hold a conversation about day to day life, not just work matters." 
– Amber Marshall, Spennymoor UK
"Understanding even when highly frustrated." 
– Sarah Blakey, Spennymoor UK
Customer Service can be draining. How does your team keep morale up and support each other?
– Anthony Banks, Spennymoor UK
"Take turns in making each other tea and coffee!" 
– Amber Marshall, Spennymoor UK
"Treat Fridays! Especially on payday, we'll all get takeaway from a great local deli or get cakes as a treat." 
– Sarah Blakey, Spennymoor UK
It's clear that meaningful relationships and teamwork are what keeps our Customer Service team going. We're so thankful that they have championed this culture of support for each other, even through working across such varied challenges every day.
What has surprised you most in your role as an Administrator or Customer Care Advocate?
"The issues that come through can be quite varied at times." 
– Anthony Banks, Spennymoor UK
"That you learn something new everyday!" 
– Amber Marshall, Spennymoor UK
"Every day is different." 
– Sarah Blakey, Spennymoor UK
And finally, do you have any tips or tricks you would recommend to someone else in a Customer Service role?
– Anthony Banks, Spennymoor UK
"Don't take things too personally" 
– Amber Marshall, Spennymoor UK
– Sarah Blakey, Spennymoor UK
I would be lying if I said I didn't get the warm fuzzies reading all the responses from our teammates. In a role that has challenges daily and requires a high level of empathy, these champions of care consistently prove how much they value helping others. For them, it's not even about business, it's about retaining a human element of connection and aid – it's about service.
If you have had a Sharpsmart Health teammember make a positive impact in your relationship, please take the time to acknowledge them by completing the survey below. Happy Customer Service Week 2019!
Know an awesome Sharpsmart Employee? Tell us!