Healthcare Waste Management Guidelines for Rotherham, England
Located in South Yorkshire, Rotherham has a population of nearly 110,000 residents, many of whom, at one time or another, will require healthcare services. Those services produce serveral types of healthcare waste in a variety of scenarios and treatment fields. Healthcare waste must be safely and properly handled and disposed of to ensure safety of not only healthcare professionals, but patients, their visitors, and ultimately, the environment.
The safe and compliant management of healthcare waste reduces the risk of contamination and infection and ensures that waste is classified according to guidelines for safer handling, storage, and transportation. The Health and Safety Executive, along with the Department of Health, encourage the safe management of healthcare waste in all areas of England, including Rotherham.
Regardless of the size of any town, district or city, healthcare waste generators are responsible for and have a duty of care to ensure that their waste management processes are compliant. Alongside this, waste generators have a responsibility to reduce the amount of healthcare waste that ends up being treated by high tempature incineration through correct segregation and must conduct safe waste management practices to reduce the risk of injury and infection for all those who come into contact with it.
---
TOPICS WE WILL COVER
1 / Start with waste stream segregation
3 / Waste management and storage considerations
4 / Labelling and transportation
5 / Sharpsmart knows the regulations 
---


Start with waste stream segregation

Compliant healthcare waste segregation starts with the identification of the different waste streams produced. From offensive waste to clinical waste to acutely hazardous waste, every employee in a healthcare facility should be able to identify the different waste streams produced and how to properly handle and dispose of them.
Mixing different waste streams not only increases treatment costs and the volume of waste treated via the less sustainable high temperature incineration method, but can prove dangerous to those dealing with it. For example, never mix a non-hazardous waste with a hazardous waste in a bag or container. Doing so requires all of it to be treated as hazardous waste.
Every healthcare facility employee should be able to identify waste streams. They include but are not limited to:
Infectious
Medicinally contaminated sharps
Cytotoxic/cytostatic contaminated sharps
 
As noted, wording is very important, as are reliable sources to determine waste stream identification and the determination of non-infectious, infectious, and hazardous wastes. Turn to UK government webpages for information on classifying different types of waste, as well as links to publications such as the Health Technical Memorandum 07-01: Safe management of Healthcare Waste for in-depth explanations and guidance.
The City Council of Rotherham also provides an excellent resource for reviewing waste management classification, including household types of waste that are collected kerbside, along with appropriate colour-coded bags and containers.
Cities throughout England, regardless of size, are expected to follow the guidelines of the government in regard to healthcare waste management, as well as the guidelines of local towns, municipalities, and districts. 
---

A word about sharps

Sharps are considered a form of clinical waste that require specific waste solutions. Within that classification, certain types of sharps – such needles or other sharp objects that are contaminated with cytotoxic and/or cytostatic drugs – also need to be segregated into their own specialised waste containers (yellow containers with purple lids).
A Health Executive document (Sharps instruments and healthcare regulations 2013) states that sharps disposal must follow the regulations of the Control of Substances Hazardous to Health regulations (COSHH). The document provides information regarding appropriate employee training as well as container requirements from a variety of facilities providing medical care such as residential care homes, hospitals, and home environments. 
---


Waste management and storage considerations

Waste minimisation is the goal of Rotherham and other cities throughout England, large and small. Waste minimisation is achieved through proper segregation and colour-coding of wastes, and by following legal requirements for transportation of that waste when moved off-site to a particular destination.
A facility's waste minimisation and healthcare waste management programme should be focused not only on environmental considerations, but financial ones as well. Waste reduction reduces disposal costs. Therefore, medical waste generators who are able to identify the types of waste produced at the facility prior to transportation and disposal can take steps to reduce the volume of non-general waste produced.
All healthcare wastes should be segregated as close to its point of origin as possible. Such waste is to be immediately disposed of in suitable, colour-coded packaging, containers, or bags in order to assist the overall waste management processes of the facility.
Refer to Chapter 5 (Waste minimisation, segregation, colour-coding and storage) of the Health Technical Memorandum for specific details regarding use of the colour-coding system (minimum requirements) used throughout England that is also recognised by waste handlers and transporters. 
---


Labelling and transportation

Guidelines for labelling containers and bags are provided by the government as well as the Health Technical Memorandum in regard to legal requirements for the packaging and transportation of waste (refer to Chapter 7: Transport packaging and operations).
Labelling is required to identify the waste producer, which is typically required by disposal sites. Every bag or container should be labelled appropriately and with the identification of the waste stream it contains. Packaging is required to meet the requirements of the Carriage Regulations.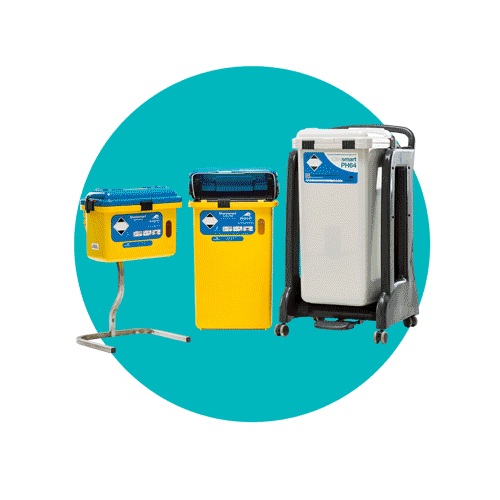 A common colour-coding method used in healthcare waste segregation processes in Rotherham and throughout England defines specific colours for different waste streams that are placed in bags, containers, or other receptacles. For example:
Purple – cytotoxic and cytostatic waste
Yellow and black striped – offensive waste that requires incineration by a licensed or permitted facility
Red – anatomical or biological waste requiring incineration
Blue – pharmaceutical waste (not cytotoxic or cytostatic) destined for incineration
 
It is the duty of care of all healthcare waste generators in Rotherham and throughout England to know, understand, and follow the guidelines for safe and compliant healthcare waste management. In Rotherham, documentation requires identification of waste and collection and disposal processes to ensure compliance.  
---


Sharpsmart knows the regulations

With decades of experience in the field of healthcare waste management and associated processes, Sharpsmart provides products, resources and solutions for all healthcare waste generators in Rotherham and throughout the UK. We focus on waste minimisation optimisation and segregation through proper and compliant treatment and disposal methods. For more information on our products, services, and guidance for safe medical waste management regulations, or to learn more about our Rotherham services and operations, contact us today.